Iyengar Yoga guides students along this journey in a way that's practical, experiential, and intensely personal.
Iyengar Yoga guides students along this journey in a way that's practical, experiential, and intensely personal.
click on a class below to view more details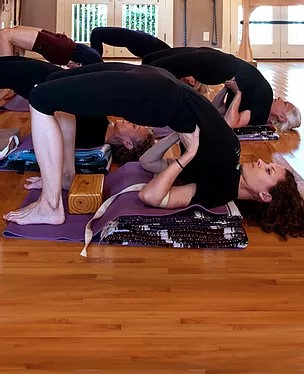 Our Intermediate Class is for experienced students who have been through Ignite! classes or have practiced Iyengar Yoga before. Intermediate students are assumed to know how to practice Salamba Sarvangasana (Shoulder Stand). Sirsasana (Head Stand) will be introduced, or appropriate substitutions if necessary. Intermediate 2 students should be proficient in Shoulder Stand, Head Stand, or appropriate substitutions.

In all Intermediate classes we begin seated with an invocation to the Sage Patanjali. This is a Sanskrit chant to pay homage to the tradition of Patanjali yoga which goes back for thousands of years. The invocation brings us inward and helps us cultivate humility and reverence for the sacred subject of yoga.

Students should have a place to practice in their homes with clear wall space, mat, 2 blocks,3 Mexican or 5 Indian blankets,1 long belt, 1 short belt, 2 bolsters, and a backless yoga chair.

In all intermediate level classes we also schedule the last week of the month for restorative asanas and pranayama. Check the schedule for class times.
WOMEN'S ESSENTIALS
ONLINE
IYENGAR IGNITE! Class for those under 40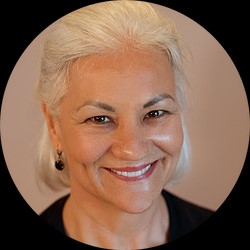 Pauline Schloesser

PHD, CIYT, IAYT
My interest in yoga has always been more than physical. For me it was the way toward a spiritual life. Working with only the Sivananda Companion to Yoga book while in college, I loved how the postures made me feel –warm, light, supple, strong, and light-hearted.
"Pauline Schloesser is a highly trained, demanding yet compassionate Iyengar yoga teacher in Houston, TX. Her certification in and knowledge of the therapeutic applications of yoga benefits her students immensely. Her studio, Alcove Yoga is a beautiful space with a rope wall and every prop I've ever seen. During the COVID 19 Pandemic, her ZOOM classes have been excellent. I enthusiastically recommend her to anyone practicing at any level of proficiency, beginner to advanced, and with any condition that would require special care, such as pregnancy or age-related conditions. I've known Pauline for many years and I've been her student for three years. I can attest to her dedication to and steadfast practice of Iyengar yoga."
Suzy S.
Houston, TX USA
"I've enjoyed Pauline's prenatal yoga during three pregnancies and it has always brought relief and relaxation. Pauline is extremely knowledgeable in prenatal health and knows how to modify the poses for different people. I have also been able to attend workshops and classes at Alcove while not pregnant, and those were equally as good. I would highly recommend Alcove yoga to anyone pregnant or not pregnant that is wanting a boutique experience in their yoga practice."
Brandea B.
Houston, TX USA