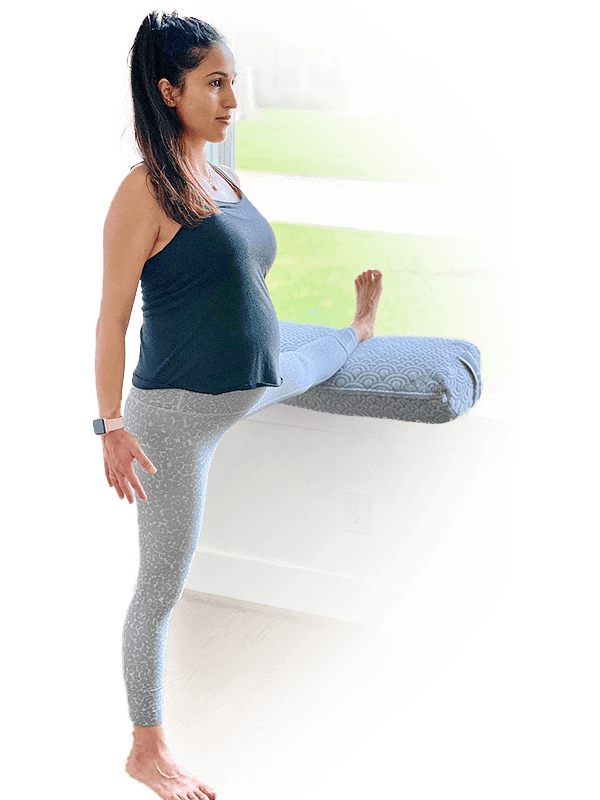 We know that being pregnant during the COVID pandemic brings special challenges, and Alcove Yoga is here to help. Pregnant women should begin with us between weeks 13 and 20, and continue until delivery. 
Because we have so much to teach in our method, we cannot enroll a beginning student after her 20th week of pregnancy.
Our Pregnancy Class Schedule:
Wednesday's, 5:15 to 6:45 pm
Saturdays, 10:15 to 11:45 am
Join the many women who have benefitted from our prenatal classes – many new to yoga, as well as seasoned yoga practitioners – learning to practice yoga with the important adjustments required for their pregnancies.  
The Benefits of Iyengar Yoga
One of the cornerstones of Iyengar Yoga is clear instruction with effective results. We will lead you step by step in traditional postures, modified for pregnancy and for your individual condition. Relieve aches, pains, inflammation, stiffness, and gain strength, confidence, and community. 
We have helped over 1000 women in a ten year period to have joyful pregnancies and easier births. Alcove's instructors have the deep knowledge and dedication that you need for your pregnancy.
Basic Prenatal Membership
Initial fee is $129 for first 28 days for 4 classes, one per week. Thereafter, the price is $110 per 28 day period. Tuition is charged at the beginning of your 4-week period. Membership is automatically renewed every 4 weeks, until due date. Contact us 14 days in advance to stop your membership.
Included in Basic Membership:
Classes offered on Wednesdays and Saturdays, with some flexibility for misses and make-ups.
Classes limited to 10 persons for adequate personal space
Classes are currently held in-studio face to face on:
Wednesdays from 5:15 to 6:45 pm
Saturday from 10:15 to 11:45 am 
Air purification constantly running for your protection
Please read our reviews online to see what so many women have said about our program.
"Pauline Schloesser is a highly trained, demanding yet compassionate Iyengar yoga teacher in Houston, TX. Her certification in and knowledge of the therapeutic applications of yoga benefits her students immensely. Her studio, Alcove Yoga is a beautiful space with a rope wall and every prop I've ever seen. During the COVID 19 Pandemic, her ZOOM classes have been excellent. I enthusiastically recommend her to anyone practicing at any level of proficiency, beginner to advanced, and with any condition that would require special care, such as pregnancy or age-related conditions. I've known Pauline for many years and I've been her student for three years. I can attest to her dedication to and steadfast practice of Iyengar yoga."
Suzy S.
Houston, TX USA
"I've enjoyed Pauline's prenatal yoga during three pregnancies and it has always brought relief and relaxation. Pauline is extremely knowledgeable in prenatal health and knows how to modify the poses for different people. I have also been able to attend workshops and classes at Alcove while not pregnant, and those were equally as good. I would highly recommend Alcove yoga to anyone pregnant or not pregnant that is wanting a boutique experience in their yoga practice."
Brandea B.
Houston, TX USA
Registration for the Alcove Yoga Prenatal Yoga Program